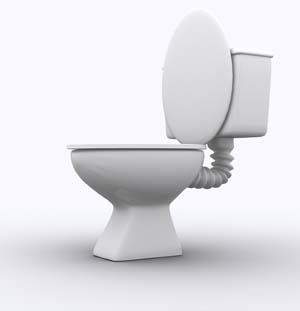 Sample Learning Goals:
to explain how a toilet works; know that a toilet can be flushed with a bucket of water
to be able to plunge a toilet
to be able to fix a running toilet; understand that a running toilet wastes water which also effects the water bill
to use the toilet properly
to clean the toilet
to know how to shut off the water to the toilet
How Toilets Work
How Toilets Work
– my 12 year old and I read through this, it was pretty readable (didn't go over our heads), includes a flush interactive (demonstrating what is going on when the toilet flushes.
How Toilets Work video
– another winner, from video.howstuffworks.com. 3 minutes.
How a Toilet Works, Plumbing Diagrams & Repair Tips
Toilet Repair
How to Repair a Running Toilet
How to Fix a Clogged Toilet
How to Clean a Toilet
eHow – How to Clean a Toilet
Activities:
Make a how to clean the toilet poster or write an essay; make a video showing how to clean the toilet; make a sequencing activity with pictures of the steps
Practice cleaning the toilet


Miscellaneous
Who invented the toilet?
History of Toilet Paper
World's Most Expensive Toilet